About
Cargospol, spol. s r.o.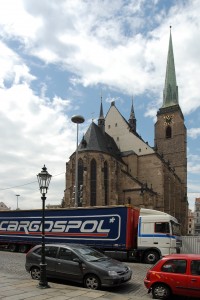 CARGOSPOL s.r.o. is a modern, dynamic company offering transport, forwarding and logistic services in the area of EU and other European countries.
Skilled professional team, modern fleet and professional approach assure the high quality services and effective performance of the executed transport processes.
The Company emphasizes ecology of transport processes; operated vehicles fulfill the requirements of EURO 3 and EURO 5 standards. All Company vehicles are equipped according to the ADR regulations.
"Quality Management System" according to the ISO standard 9001:2008 is used in CARGOSPOL Company.
The Company is incorporated in the following transport and forwarding databases:
RAALTRANS Editor – registration number: E98
TimoCom TRUCK& CARGO – registration number: 008620
TELEROUTE Ostereich – registration number: CZ0 0104
Invoicing details
CARGOSPOL, spol. s r.o.
Husova 13
301 00  Pilsen
Czech republic
VAT: CZ62621122
CARGOSPOL Company is registered at Commercial Register, Section C, Insert 6215 maintained by Regional Court in Pilsen.
Bank connection
Bank name
Vereinigte Sparkassen Waidhaus
Komerční banka Plzeň
Account currency
EUR
CZK
Account number
300197738
5012300257
Bank code
75351960

0100
IBAN
DE78753519600300197738
SWIFT/BIC
BYLADEM1ESB
DISPATCHING
+420 377 539 884
+420 377 539 882
We are here for you:
Mo-Fr: 07:00 - 16:00
CARGOSPOL s.r.o.
alej Svobody 881/56
323 18 Plzeň
IČ: 626 21 122
Tel.: +420 123 456 789
Fax: +420 377 539 885
E-mail: info@cargospol.cz